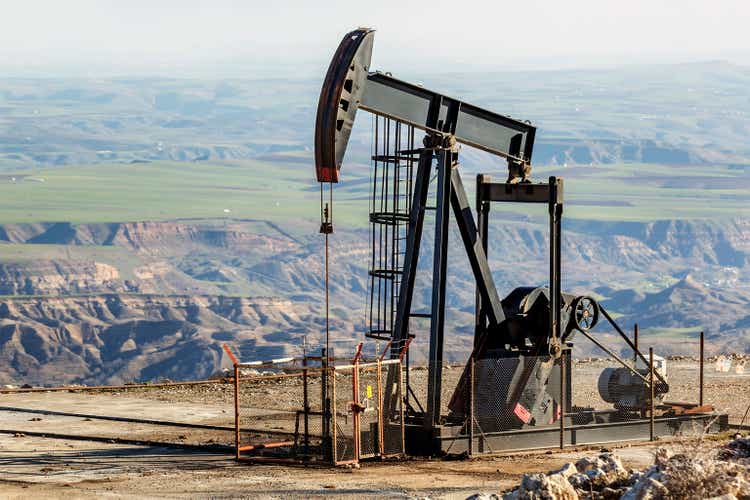 The Tortoise Energy Independence Fund (NYSE:NDP) is coming off a banner year with its oil & gas equities strategy benefiting from the strong energy pricing environment. Indeed, the closed-end fund returned more than 30% in 2022 with our data showing it as a top performer in the category and even beating out benchmark industry ETFs over the past year.
What we like about the fund is that it screens well next to comparable CEFs, while its discount to NAV has even widened in recent months. Income investors will appreciate the 7% distribution yield with a quarterly rate increase last year. Considering a bullish outlook on the sector for 2023, we expect more upside from NDP going forward.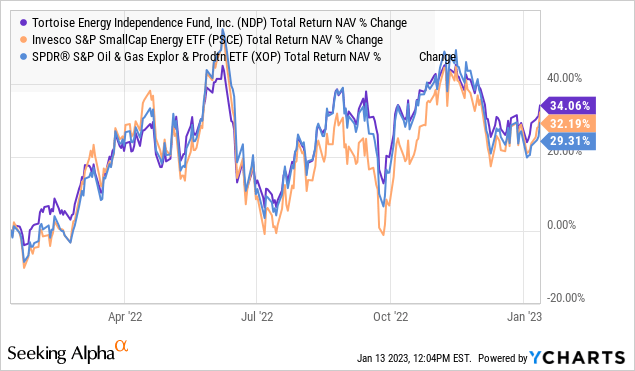 What is the NDP Fund?
NDP invests primarily in North American oil & gas companies on the exploration and development side through producers along with some exposure to midstream names. This is in contrast to many other income CEF vehicles focusing more on high-yield pipeline and infrastructure names or master limited partnerships. On this point, NDP generates a regular 1099 tax income statement, avoiding the often more complicated K-1 form depending on each investor's circumstance.
Keep in mind that NDP is that the fund is actively managed, meaning it is not intended to follow an underlying index, with each holding at the discretion of the investment team. The strategy also utilizes a small amount of leverage, currently listed at 6% of total assets, through the portfolio management process that also includes writing covered calls.
Going through the current holdings with 36 stocks, the exposure is primarily through large caps. Even as global majors with Chevron Corp (CVX), and Exxon Mobil Corp (XOM) in the top-10 holdings, the largest current position is Cheniere Energy Inc (LNG) with an 11% weighting, implying the manager is particularly bullish on that name.
Other high-profile positions include Devon Energy Corp (DVN), Pioneer Natural Resources Co (PXD), and Diamondback Energy Inc (FANG) rounding out the top 5. Down the list of holdings, we get some infrastructure and pipeline stocks like Enbridge Inc (ENB) or Western Midstream Partners LP (WES), along with oil services provided by Baker Hughes Co (BKR). There are even some small-caps like NextDecade Corporation (NEXT).
The key takeaway is that the composition of the fund including the weightings on individual holdings is distinctly unique compared to any particular sector tracking index. It's fair to assume that a significant portion of the fund's total return is directly connected to the security selection factor and the high-level themes of energy.
NDP Is A Solid Performer
NDP's performance over the past year confirms the team at Tortoise is doing something right. The chart below highlights how the fund beat out the SPDR S&P Oil & Gas Exploration & Production ETF (XOP) along with the Invesco S&P SmallCap Energy ETF (PSCE) which have similar exposure profiles and levels of volatility. For us, the ability of a CEF to outperform a more "vanilla" indexed strategies goes a long way to confirming it can add value to an investor's portfolio.
What's even more impressive is that across nine other comparable "energy sector" closed-end-funds, including a trio of "sister CEFs" from Tortoise, NDP took the crown as the biggest winner in the group.
The explanation here is based on NDP's differentiated tilt towards production companies that outperformed relative to funds tilted more towards midstream names. This dynamic was also captured by the BlackRock Energy & Resources Trust (BGR) in the second spot with a 27% total return at NAV. At the other end, the separate Tortoise Power & Energy Infrastructure Fund (TPZ) returned only a modest 7% over the period, dragged lower by weaker-performing midstream and utility names.
That dynamic also plays a role in demonstrating how NDP was able to deliver a positive 6% return, over the past 3 years, well above the group average that faced deeper losses. Going back to the pandemic crash in early 2020, MLP's including holdings from the separate Tortoise Energy Infrastructure Corp (TYG) and the Goldman Sachs MLPS and Energy Renaissance Fund (GER) faced more extreme declines to their net asset value that have not recovered.
That leads us to the 5-year chart where NDP's performance is still below average, down 50% over the period. We bring this up with a sense that because NDP's long-term performance history leaves a lot to be desired, investors and "the market" may be discounting its more recent positive momentum and leadership to the upside. In other words, the setup now warrants a second look which is our goal here today.
Even as NDP remains one of the smaller funds in the group with just $66 million in total assets compared to TYG closer to $480 million or the ClearBridge Energy Midstream Opportunity Fund Inc's (EMO) $450 million in assets, we won't be surprised if its 2022 results capture more inflows. The fund's expense ratio of 2.2% is also compelling next to EMO which charges 3% or KMF at a pricey 3.4%. The current distribution yield at 7.3% on a forward basis also lines up well within the category.
Putting it all together, NPD looks relatively attractive trading with a discount to NAV at -16.6%, next to the lagging names in the category during 2022 like the First Trust New Opportunities MLP & Energy Fund (FPL) or even GER that trade at a narrower spread. Considering that NDP traded at a discount under 8% earlier in 2022, one interpretation is that the fund is now relatively undervalued, with room for the spread to narrow.
What's Next For NDP?
With CEFs, it's often a balancing act for investors between funds that can satisfy different objectives at a certain risk profile. We believe NDP has a good balance between its income and total return potential, all things considered.
Looking ahead, we see the energy sector rebounding lifted by a new leg higher in the price of oil and gas which has trended lower in recent months. The idea here is that the combination of easing global inflation pressures and stabilizing interest rates could provide some support to global demand on the energy consumption side. A weaker US Dollar, along with a potential demand boost from China as its economy reopens from Covid restrictions can work to lift commodity prices. NDP would be well-positioned to benefit.
From the CEF price chart, NDP has been trading in a climbing channel over the past year and we like the current setup here under $31.00 as a new buying opportunity since correcting from recent volatility. An environment where energy regains momentum can help the fund reclaim its recent cycle high of $36.00 as an upside target.
In terms of risks, a deeper deterioration to the global macro outlook could open the door for a leg lower in energy prices which would be bearish for the fund and sector. A break below ~$25.00 to the downside as an area of technical support would likely mark a more concerning turn of events. The final point here is that given NDP's relatively small size, the fund sometimes has limited liquidity for trading purposes which can add to daily volatility.
Editor's Note: This article covers one or more microcap stocks. Please be aware of the risks associated with these stocks.